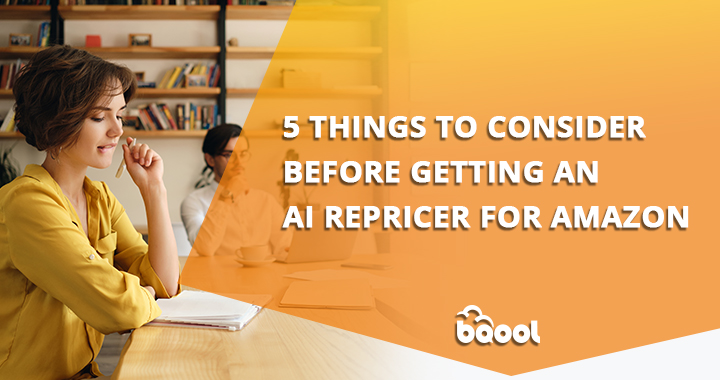 Due to the growing popularity of AI technology, the number of Amazon sellers who are looking for an AI repricer is increasing every year as a true AI repricer can fulfill sellers' needs to win the buy box and help their businesses to scale up. The smarter the AI repricer is, the more repricing strategies it can devise.
For each of your listed products, an ideal AI repricer will ensure that every competitor's price listed for that specific product has been processed and then reprice based on a range of factors that will impact the chance of winning the buy box. In addition, an AI repricer can determine if market conditions call for a more aggressive repricing approach to optimize a seller's prices for more sales and minimize the loss of profit margin.
How can we identify a proper AI repricer that would deliver an authentic AI repricing experience for sellers? There are several aspects to consider when choosing a true AI repricer that can win the buy box. Here are a few key takeaways to help you find the right AI repricer.
1. Does the AI Repricer Have Machine Learning?
A true AI repricer is known to have machine-learning algorithms that learn and deciphers how Amazon's buy box algorithm works and equips itself with that knowledge to reprice your listings to be the most favorable candidates to win the buy box and increase sellers' profit margin.
BQool's AI repricer with machine learning also excels in taking numerous factors like historical sales price, feedback rating, and the fulfillment types into consideration when it determines the most optimal price that can get the buy box to maximize profits with the minimum setup from a user's part. Its machine learning algorithm can give you suggested Buy Box price to avoid the prevalent delisted issue that is found with many third-party Amazon repricers.
2. How functional is the AI Repricer?
For every Amazon seller, profitability is king. The success of an AI repricer lies in the AI functionality to help sellers to win the coveted buy box to increase their profits. If the AI repricer cannot take the variables that influence the buy box win percentage into consideration, then it will have trouble adjusting the optimal price to Improve the seller's profits.
Functional AI repricer must have these aspects:
Numerous filters are supported for users to sort listings and isolate the data they need

Many if/then scenarios in the repricing rules that be tweaked and stacked as desired

Can reprice against a specific seller with conditional actions

Automatically works to fix delisted SKUs if possible, within min/max parameters.

Allows to download and upload inventory spreadsheets, listing files, and other reports

Can analyze real-time market trends and profile every competitor.

The AI repricer is designed by a team of talented developers so that it can proactively identify if there is an opportunity to optimize for profits.
3. Can the AI Repricer provide these benefits?
Supports incremental repricing & algorithmic repricing
AI repricers maintain buy box position and raise buy box price to maximize sales volume and increase profit margin.
Accelerate your buy box win rate and boost the percentage of buy box ownership.
AI repricer is based on machine learning which has a self-learning algorithm that recognizes competitor's pricing patterns so it can learn from historical, current data, and become more intelligent over time.
Machine learning also deciphers Amazon buy box algorithm to reprice listings with the most optimal price to win the buy box
Machine learning algorithm targets the optimized buy box price in real-time thus minimizing the likelihood of delisting.
AI repricer requires minimum maintenance on a user's part and it streamlines repricing setup significantly. There is no need to adjust repricing rules constantly to adapt for different competitions as the AI will achieve this automatically in real time.
4. Does the AI repricer consider more than just price?
Not all AI repricers are created equal, this is especially true in the Amazon third party tool market that has been flooded with many faux AI repricer in recent days. The many so-called AI or algorithmic repricers in the industry are not true AI repricers, but instead, they are rule-based repricers that adjust your price in response to your competitors, while ignoring all other important seller and market metrics that determine the final buy box winner. An incompetent repricing software will allow a competitor to slip in and steal your prospective customers.
5. Can the AI repricer suit businesses of all sizes?
A good AI repricer works for entry-level, small, or large-scale businesses. From established private label sellers who wish to drive away listing hijackers to maintain long-term growth to resellers who want to squeeze every penny out of their sourced products, a true algorithmic repricer will suit any type of these sellers' needs. The machine learning algorithm is a self-learning algorithm that can identify your competitors in search and optimize prices in real time according to your business objectives, such as revenue, profit, or liquidation.
If you're considering getting an AI repricer, also make sure to ask yourself these important questions before you choose:
Does it stop lowering prices or raise prices once you get into the Buy Box?
Does it allow you to compete not just for the lowest price but also the second-to-lowest price, the third-to-lowest price, and the fourth-to-lowest price?
Does it allow you to set different price scenarios when competing with prices greater than, equal to, and less than those in Fulfilled by Merchant listings, Fulfilled by Amazon listings, and Non-Featured Merchants listings?
Does it allow you to compete for the next optimal price if the competition goes lower than your minimum set price?
Does it raise prices when you have no competition?
Does it allow you to exclude specific sellers by name?
Does it allow you to ignore competition with Feedback Ratings less than a percentage you determine?
Does it allow you to set specific live price margins against those of your competition?
Conclusion
Winning the buy box doesn't always have to be the lowest offer if you are repricing with BQool AI repricer. A good AI repricer like BQool can analyze a large pool of data found on Amazon that dictates the final buy box victor and capitalize on that information to not only win the buy box but also increase your price to maximize profit.
Taking into consideration every variable that impacts how the Buy Box winner is determined, the state-of-the-art AI solution can price up and down intelligently to help you effectively drive demand and profit.
Aggregating billions of data points in real-time, BQool's latest AI repricer with the machine learning model is a breakthrough that will shake the Amazon seller community and we would like you to be part of the AI revolution to outplay your competition in a dynamic Amazon market.
Sign up for a 14–day free trial now, and you will be the first one to know when it's released.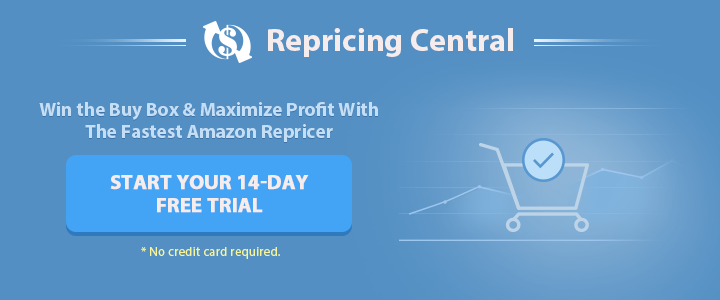 The post AI Repricer for Amazon: 5 Important Tips appeared first on BQool Blog.