Ecommerce News Roundup: December Recap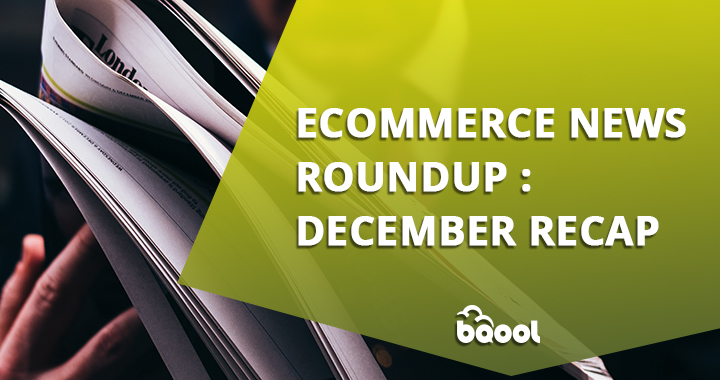 Happy new year! May all your dreams come true, and all your hopes are fulfilled in 2021! BQool will always be here for you to provide any supports in selling on Amazon successfully. Let's keep up with the latest Amazon news and updates that matter to your business.
Amazon rolls out new industrial AI tools to monitor productivity and worker safety
Amazon AWS is launching a series of industrial machine learning tools aimed at helping companies use artificial intelligence to monitor factory workers and machines, the company announced in a press release Tuesday.
The suite of tools, which Business Insider's Eugene Kim previously reported, use predictive analytics to identify potential equipment failures and product defects, worker safety and compliance violations, and areas where they may be able to improve productivity, among other industrial process improvements.
The tools include: Amazon Monitron and Amazon Lookout for Equipment, sensors, and software that predict when machines might fail or need maintenance; and AWS Panorama Appliance, AWS Panorama SDK, and Amazon Lookout for Vision, which enables companies to automatically detect a variety of "anomalies" in video footage. Read the full article here.
VAT changes on sales to UK customers
Starting January 1, 2021, the way that UK VAT is collected on sales to customers in the UK will change under new legislation being introduced by the UK Government.
Amazon will be responsible for collecting UK VAT on the following sales of goods delivered to customers in the UK where ordered through any Amazon storefront:
Goods delivered from inventory stored outside the UK with a parcel value of up to £135.

Goods delivered from inventory stored in the UK, irrespective of value, where you, the seller, are not established in the UK.
Amazon will calculate and collect UK VAT from the customer at checkout and remit this directly to the UK Tax Authorities, so you will not receive the UK VAT amount in your disbursements and will not be required to remit these amounts to the UK Tax Authorities.
The current VAT exemption for sales of goods under £15, where goods are delivered to UK customers from inventory stored outside of the UK, will also be removed from January 1, 2021. At that point, UK VAT will be calculated and collected by Amazon on these sales irrespective of their value.
Further information regarding this change and the implications for your business, you can refer to UK VAT on eCommerce legislation page.
Marketplace Tax Collection now available in more locations
Marketplace Tax Collection (MTC) has been expanded from 32 states and the District of Columbia to an additional 11 states and Puerto Rico. When items are shipping to any MTC jurisdiction, you may see sales tax calculations made by Amazon, on your orders, at no cost to you. Taxes collected by Amazon are shown with the order details and in various Seller Central reports. Amazon remits (as the taxpayer) all taxes collected as MTC to the appropriate tax authority.
Amazon newest jurisdictions are: Arkansas, Indiana, Kentucky, Louisiana, Mississippi, New Mexico, Ohio, Puerto Rico, Rhode Island, Virginia, West Virginia, Wyoming.
Visit Marketplace Tax Collection FAQ that contains state-specific details and your Amazon reporting options.
Improvement for your Expiration Date ASIN creation
For listing new products that have an expiration date or lose effectiveness over time, the following product attributes are available when you create ASINs in product types that are subject to the Expiration Dated Product Policy and Expiration dates on seller-fulfilled products: Is_Expiration_Dated_Product (IEDP), Product_Expiration_Type (PET), and FC_Shelf_Life (Shelf Life)..Existing ASINs or inventory will not be affected and the change is only in effect for newly-created ASINs.
By filling out the attributes properly, you help create a seamless intake process and proper tracking of products at fulfillment centers, so products that are past their prime can be removed before reaching customers.
You will notice these specific changes for the expiration attributes when you create ASINs:
Label Changes

: Update attribute labels to provide consistency across all marketplaces to minimize confusion about what the attribute is asking and allow you to answer the question with confidence.

Requirement Changes

: Update the required conditions for IEDP, PET, and Shelf Life. You will be required to answer IEDP with "Yes" or "No." In cases where IEDP is answered as "Yes," PET and Shelf Life will also be mandatory to be answered.

Answer Format

: Update each answer format by replacing open text cells with drop-down menus and standardized answer formats in order to avoid confusion.

Tool tips

: Update "tool tips" to give a clear definition for each attribute and provide additional context for better understanding.

Attribute Location

: Amazon is moving the attribute locations in Seller Central to group the expiration attributes together. Previously, expiration attributes were found in different parts of attribute templates and creation paths depending on the Product Type.
Changes to labels, answer formats, and tool tips are updated in all marketplaces for sellers by December 21, 2020. Requirement changes will take effect on January 25, 2021.
New Subscribe & Save performance dashboard now available
FBA Subscribe & Save's new performance dashboard is now available for sellers to help manage their Subscribe & Save business and ensure a positive customer experience.
On the dashboard, you can get the following Subscribe & Save seller performance metrics for review:
The number of units and revenue for shipped subscription orders

Projections of units and revenue for orders that are expected to ship

The number of active subscriptions

Average revenue per customer

The percentage of units not delivered because the ASIN was out of stock
You can see these metrics for your overall Subscribe & Save business or at the ASIN level (up to 20 at a time) for weekly, monthly, quarterly, and yearly time frames.
Seller performance reviews are ongoing and include customer feedback, order cancellation rate, and your ability to maintain inventory levels. Poor performance metrics can affect your ability to participate in the program.
Update to FBA shipment closure timelines
In order for Amazon to receive your inventory more efficiently and minimize delays, shipments created beginning today will be automatically updated to Closed status if they become more than 90 days old. Amazon recommends that you ship the full quantity entered in the shipment to the fulfillment center as soon as it is created.
Closed shipments will display a status of CLOSED in your Shipping Queue. You can navigate to your Shipping Queue in Seller Central by going to the Inventory menu and selecting Manage FBA shipments.
If the closed shipments are already in transit, Amazon will still receive them, but you cannot ship additional units for a closed shipment.
For instructions on tracking the status of your shipments, see Track your shipments: Shipping Queue and Shipment Summary.
New Search Terms report feature available for Brand Analytics
The Amazon Search Terms report in Brand Analytics shows you how customers (in aggregate) find your and your competitors' products in the Amazon stores. This includes the relative search popularity, click share, and conversion share for each of the top three clicked products for a given search term.
With the ability to see the ASINs that have dropped from the top three clicked products, you can better understand which of your products might be losing search relevancy and adjust your product main image, title, and advertising campaigns to generate more traffic.
Amazon Brand Analytics is free to brand owners enrolled in Brand Registry.
Reminder: Action required for listings on Amazon classified as pesticides
As of October 6, 2020, all listings of pesticides and pesticide devices will require the Pesticide Marking attribute to be filled in with evidence of an EPA Registration number and/or EPA Establishment number, or a certification that the product is exempt from EPA regulations. Proactively providing the required EPA information on the product detail page will minimize disruption to your product offerings.
Beginning January 11, 2021, listings of pesticides and pesticide devices without this information may be subject to removal. For detailed instructions for adding the Pesticide Marking attribute to new or existing pesticides listings, along with some answers to frequently asked questions, see the Compliance ID Attribute – Pesticide Marking page.
Additionally, approval from Amazon is required to sell these products. As per Amazon policy, only U.S. residents are eligible to list pesticide products on Amazon.com. If you haven't received approval, log in to Seller Central to start the application process on the Selling Application page.
You may not be aware you are selling products the EPA considers pesticides or pesticide devices, as it can be hard to identify which products qualify and why. The EPA classifies pesticides or pesticide devices as products that are marketed to disinfect, repel insects, remove allergens, or prevent bacteria, or that make any other antiviral, antimicrobial, antifungal, antibacterial, or other pesticidal claims. If any of your products have been identified as a pesticide or pesticide device, you will receive an email from us with a list of the affected ASINs.
For more information, see Amazon's Pesticides and Pesticide Devices policy.
Inventory Performance Index threshold change to 450
Amazon has lowered the Inventory Performance Index (IPI) threshold to 450:
If your IPI is 450 or above in week 51 of 2020, starting January 1, 2021, you will not be subject to storage volume limits.

If your IPI is below 450 in week 51 of 2020, you will continue to be subject to storage volume limits. We will notify you of your next period limits, which will go into effect on February 1, 2021.
You can visit your Inventory Performance dashboard for ways to increase your IPI by reducing excess inventory, improving your sell-through, or fixing stranded listings.
All products are still subject to restock quantity limits. You can view quantity limits for your products on Restock Inventory.
New Product Types and Attributes Available
In the month of December, Amazon introduced new Product Types and attributes to improve your product detail pages. To view what Products Type and attributes were launched please refer to our help page.
When creating a new listing, you can view these new product types when classifying your product in the Add a product tool in Seller Central. You can also see the product types when you select the appropriate template to download on Add Products via Upload.
These changes will not affect your existing selection but you can provide these additional attributes by editing your products via Manage Inventory or by updating your listings in bulk.
Get the latest eCommerce news and Amazon seller tips at blog.bqool.com. Subscribe for updates!
The post Ecommerce News Roundup: December Recap appeared first on BQool Blog.